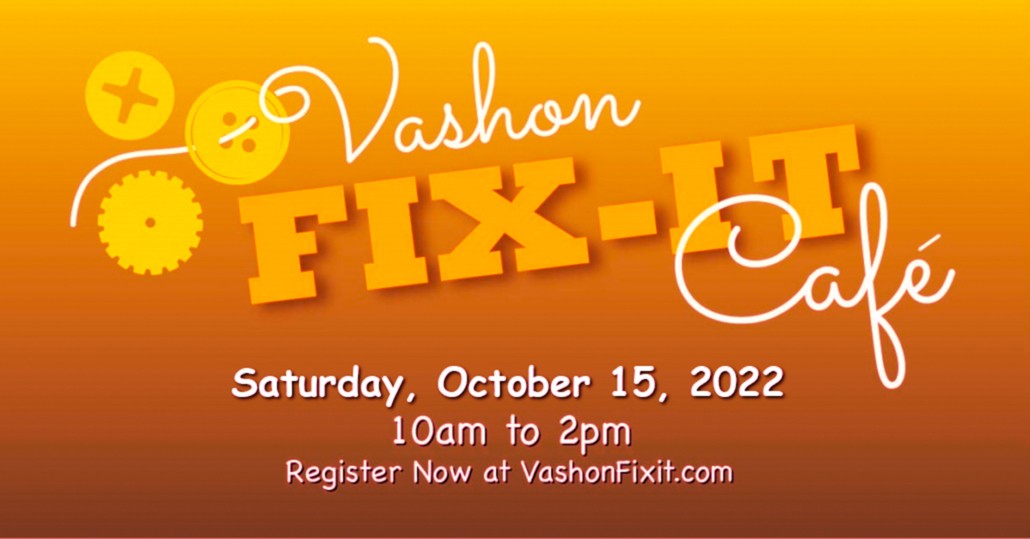 Dedicated to reducing waste and building community, the Vashon Fix-It Café returns Saturday, October 15, 2022, from 10am to 2pm at the Vashon Eagles Club, 18134 Vashon Highway SW.
Advance registration is required to safely stagger fixing sessions and pair you with the right fixer for your job. Complete the simple form on the Fix-It Café website at http://vashonfixit.com/ to be paired with a fixer – or – to volunteer to join our merry band of fixers.
You'll be given a time to drop off your item (s) and called when the fix is finished. For those missing the good old days of in-person fixing, we're also offering that option – with mask precautions and social distancing, probably in an outdoor setting. If you'd like to be involved in the fix, select that option on the registration.
Fixers are eager to repair your bicycles, sewing machines, lamps, jewelry, outdoor equipment, vacuums, fans, chairs, tables, tools, music players, blenders, toasters, toys, pants, dresses, purses and bags, electronics, and lots more! Fixing and advice are free to the public, but if parts are needed you may be required to acquire them at cost to complete the fix. Please do not bring in anything that drips, smells or is too heavy for one person to carry.
The Vashon Fix-It Café is hosted by the Vashon Eagles Aerie # 3144 and staffed by members of the Vashon Tool Library (vashontools.org), Vashon Makerspace (https://vashonmakerspace.org/),
Zero Waste Vashon (zerowastevashon.org), and Vashon Island Time Exchange, with support from the King County Eco-Consumer Program.
WHEN:
Saturday, October 15, 2022 10am-2pm
WHERE:
Vashon Eagles Club, 18134 Vashon Highway SW
REGISTRATION:
Free to the Public, Pre-registration required at: http://vashonfixit.com/
What is Vashon Makerspace?
Several organizations and businesses on the island have been working on a makerspace project for Vashon.  These include members of the Vashon Tool Library, the Vashon Library, the Vashon School District, and a large group of volunteers.
The Makerspace Advisory Group, has been meeting to work out the details of how a makerspace might be formed, including what tools and resources would be included, where it would be located, how membership might work, and a host of other issues. Woodworking, metalworking and other tools have been collected and are being held at the Vashon Tool Library, waiting for appropriate space to be located.  Some financial commitments have been obtained, but additional funds will be required.
GET THE NEWS
Right now we're just a dream, monthly meetings and a mailing list. Want to be a part of it and/or learn more as we grow?
Due to the ongoing corona virus, classes and gatherings have been suspended until we get the all-clear. Subscribe to the newsletter to get news and events announcements when things get back to a semblance of normal.